Preliminary Talk
You are interested in a personal coaching? Call me for a first informal and cost-free Skype or phone conversation. I will listen to your individual goals, and we will agree about the contents of the coaching sessions and their duration. You can also send an e-mail. I will respond as soon as possible.
Presentation Coaching
Optimally prepare yourself for your next presentation or stage performance. What is your burning issue?
We will discuss your topics in a preliminary talk. In the coaching session, I will provide specific advice based on your goals. This way, your stage performance will distinctly improve.
You can choose between a one time appointment or several coaching sessions. We can also combine both online and in person meetings.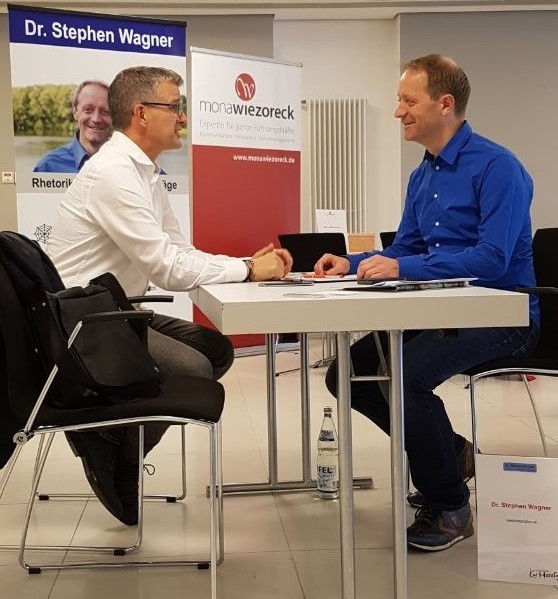 Video Analysis
Upon request, I can record your rehearsal speeches directly via camera. In the video evaluation we talk about your strengths and potentials, which you can use for your live performance. After the coaching I will send you the videos for personal use.
Feedback for your Live Performance
Upon request, I can accompany you directly to your presentation on site! Whether conference or fair, lecture or seminar, field trip or any other event.
You will receive detailed feedback for your live presentation at a time that suits you best. Feel free to get in touch for further details.
Online Coaching
Do you prefer full time flexibility? Whether preparing or reviewing your presentations, I will address all your questions via video call. You can also record your presentation and send it in advance. I will analyze your video and provide both in person and written feedback.
If you have you already attended one of my live seminars, the first 30 minutes will be free.
Outdoor Coaching
Weather permitting, I can coach you outdoors by having a walk or sitting on a bench in the park or at a location of your choice. I can record and analyze sound and/or video of our session.You have all possibilities.
The most unusual coaching so far was during a bus excursion through Iran.
This post is also available in: German